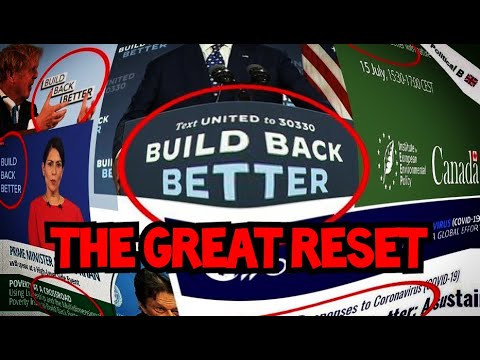 RumorMillNews.com ——–By GeorgeEaton ————Mon., Sept. 27/21
My interpretation of "build back better": A nation doesn't do that unless they have lost a huge amount of lives. It seems to me that the build back better phrase is a bit premature, as if the final purge hasn't happened yet, but they're already preparing to rebuild, even before the war ravaged the land and killed off a lot of the citizens.
So, these phrases like "the great reset" and "build back better" are a warning sign that the purge is still ongoing and we are facing even greater problems, more shutdowns and more loss of life.
I have a feeling something big is being planned against the citizens as another step towards total control of the public. What we are seeing with the push for vaccinations is not normal. The vaccine doesn't work and they know it.
What we are seeing is a full sweep of power over the people that includes their financial situation and the health and reproductive abilities of the public. With total control over people's well being it means an end around the military and political system, and 100% control of the people – as if the globalists won a war.
This is serious. They are treating this seriously. And we need to take this more seriously as well. They have us in dire straights and almost under full control.
They are pushing extra hard now as if their lives depend on it. What they are doing is the opposite of the constitution. Only a small minority of republicans are not going along with the globalist agenda.
If a person adds up everything the politicians have done, we are only a few steps away from total collapse, and then total control of a dying people.
There is no push back, and the more they vaccinate the less resistance they'll have. The economy is in shambles and they are now making all the moves to make it worse and shut down the supply lines to the people.
Full article here: https://www.rumormillnews.com/cgi-bin/forum.cgi?noframes;read=183449