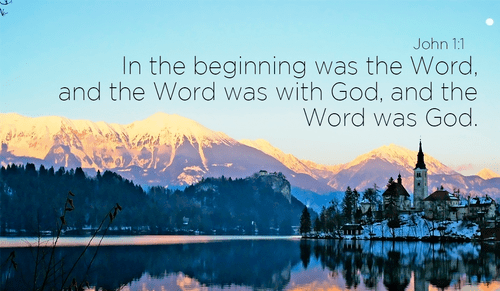 Sabbath Day (Gen.2: 1 -3 & Ex.20: 8 – 11)—– By r. a. ——-Saturday, Sept. 25/21
In Messiah's (Yahshua's) name: "To the law and to the testimony: if they speak not according to this word, it is because there is no light in them." (Isa.8: 20).
There are both Sabbath and Sunday keeping churches who claim and teach that verses 1 to 3 in John's Gospel reveal two eternal deities – two Gods, one of which is Christ.
That claim and teaching is a serpentine bending and twisting of both the scriptures and the definition of terms. For example, the Catholic church refers to Mary, the mother of Christ. as "The Mother of God"!!!
Here's the scrips: John Gospel verses 1 – 3

1 In the beginning was the Word, and the Word was with God, and the Word was God. (In this verse, the truth benders claim that the " Word" is a separate God –"the word was WITH God and was God".)
2 The same was in the beginning with God.
3 All things were made by him; and without him was not any thing made that was made.
Notice the term "him" in verse 3 which refers to a single entity/God.
Also notice the term "WORD" in verse one. It is the English term for the Greek term "Logos". Strong's Hebrew/Greek dictionary lists arounf 25 possible renderings for the term "Logos" (Word).
I did not come across any dictionary meaning for the term "Logos" which was definitively defined, characterized or understood as "spokesman" or a living/thinking person/individual. There just wasn't any such rendering.
The personification of the term"Word/Logos was an invention of deceived religionists.
The erroneous claim that two separate individuals are revealed in John 1- 3 contradicts and is a rejection of the Creator-God's testimony about himself as revealed in many scriptures.
Just one example is found in Deut.32 : 39 – "even I, am he, and there is NO GOD WITH ME"
Here's another example of the many – "I am the first, and I am the last; and BESIDE ME there is NO God." (Isa. 44: 6) There are many scriptures that plainly contradict the teaching that Christ is/was one of two Gods.
A few more examples –Neh.9: 6 -13; 2chron 6:14; Isa.43: 10 – 11; Deut.6:4; Ex.20: 1 – 6.
Not to belabour the point any further, I will close with this comment: N.T. scriptures must line up and square with the testimony contained in the O.T. If they do not, they must be closely re-examined and explored.
In short, upon close examination, John's gospel, verses 1 – 3, does not square with the Creator-God's testimony about himself.
All glory, praise and honor to the Creator-God, the great I AM, in Messiah's (Yahshua's) name.
Peace, blessings and protection to all who seek and love the truth –God's Word (Jn.17: 17 & Psalm 119: 142