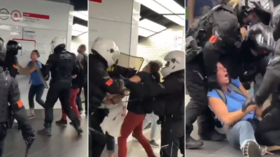 RT News.com ———By Staff ———Sun., Sept.05, 2021
French riot police officers have been scolded for brutally arresting two women, after backing away when confronted by a big group of protesters against the so-called coronavirus health passes, who stormed a mall in central Paris.
Hundreds of people forced their way into the Forum des Halles shopping center on Saturday, amid a nationwide string of demonstrations against the Covid-19 restrictions and mandates.
The group was seen chanting 'Freedom!' inside the mall, which is partially underground and connected to the metro transit hub of Chatelet–Les Halles.
Source: https://www.rt.com/news/533985-paris-police-arrest-women-mall/