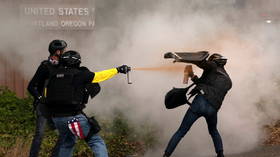 RT NEWS.com ————–By staff —————-Mon., Aug. 23, 2021
The Proud Boys is a far-right, neo-fascist, and exclusively male organization that promotes and engages in political violence in the United States
Antifa left-wing, autonomous, militant anti-fascist groups and individuals in the United States. The principal feature of antifa groups is their use of direct action. (intro by r. a. )
Dozens of right-wing Proud Boys and leftist Antifa members have clashed in a chaotic street showdown in Portland, armed with a variety of improvised weapons ranging from bats and shields to paintball guns, mace and fireworks.
A brief gun battle also erupted in downtown Portland on Sunday, according to multiple videos shared by witnesses. Some of them showed a middle-aged man in a fedora hat hiding behind trash bins and firing several shots across the street.
From another angle, it appears that shots were fired towards the shooter as well, though it remains unclear who opened fire first. Some reports suggested the man was a Proud Boys supporter who was being chased away by Antifa members, before opening fire.
Full article and more vids here: https://www.rt.com/usa/532781-portland-antifa-proud-boys-clashes-shooting/