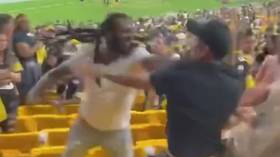 RT NEWS.COM ————— Posted by staff ————-Sun., Aug.22, 2021
The Pittsburgh Steelers' latest win in preseason was marred by violence in the stands at Heinz Field, as a woman slapped another fan in the face before he then KO'd her male accomplice in scenes later shared on social media.
With quarterback Ben Roethlisberger returning to score two touchdowns, the home team beat the Detroit Lions 26-20.
Improving their record to 3-0 before the NFL season kicks off on September 12 against the Buffallo Bills, the Steelers have delivered their best start to a campaign in 11 years.
And while their fans should have been enjoying the action and getting excited about a possible first Superbowl appearance since that period, in 2010, others preferred to argue amongst themselves and get physical.
In one incident, two clips of which have been seen a combined 100,000 times already, a blonde woman and African-American man are having it out on different rows of the 70,000 capacity stadium.
While the latter party is cool-headed in the beginning, the former yells crazily at her seated male accomplice, who is wearing a cap, to "shut up".
She then slaps the man square in the face, causing him to restrain himself from hitting her before the woman's male friend rises to engage in a brawl with the African-American man.
Full article here: https://www.rt.com/sport/532754-brawl-nfl-heinzfield-pittsburgh/