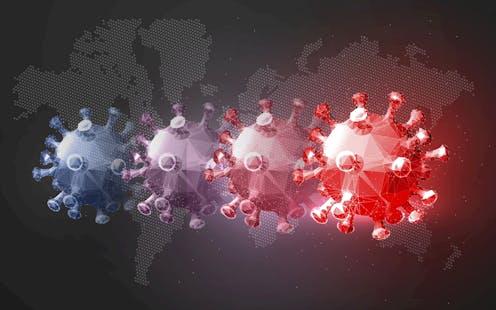 Pic above illustrates delta covid-19
My Source: RumorMillNews.com ———- Fri., July 30, 2021
BATTLEFORWORLD.COM | July 30, 2021: Internal document from the US Center for Disease Control and Prevention (CDC) says that the Delta COVID-19 strain spreads easily like the chickenpox among fully vaccinated people also transmitting the virus.
Admitting that the transmissibility of the Delta variant was almost as high as the chickenpox, with each infected person to person, on average, infecting approximately eight or nine others in herd grouping.
That the fully vaccinated people who become infected can transmit the virus as well as people who are unvaccinated. However, according to the document, vaccination provides a measure of protection against the COVID-19 virus.
This has prompted the CDC to announce new requirements for universal mask wearing and vaccination as the best tool against the Delta variant. (BattleForWorld.com: Regarding the Delta variant, must be referring to the booster shots. As the first generation of Western COVID-19 vaccines only targets the early variant.)
Pic above: chickenpox in adults
Also coupled with the alarm is the acknowledgment of breakthrough infections, by those recovered from COVID-19, who are infected again, that it may not be so rare after all, and stressing that vaccinated individuals are transmitting the virus.
(BattleForWorld.com: And the reason for the reinfection is because NONE OF THE COVID-19 VACCINES CLEARS/NEUTRALIZES THE VIRUS FULLY FROM THE BODY – and so escaping nanoparticles of the virulent protein pieces are deposited and hiding to breakthrough again once the immune system is compromised.
The CDC is well aware of this fact. The COVID-19 vaccines are very poorly designed. Was this deliberate?)
Full article here: http://www.battleforworld.com/2021/03/20/covid-19-where-does-it-end-part-2/#DeltaSpread