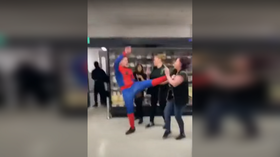 RT News.com —————– By Staff ————-Sun., July 25, 2021
Bizarre footage from London showed a man dressed as Spider-Man kicking and punching a female worker in an Asda supermarket. Police arrested five people after the brawl, as reports pointed to a group of violent "pranksters."
The video, apparently filmed on Thursday night, shows a man wearing a Spider-Man outfit bursting through a door and kicking a female staff member in the chest at an Asda supermarket in Clapham, London.
He then punches her in the face, leaving her sprawled out on the floor. A separate video shows a massive brawl in the supermarket, where the costumed hooligan can be seen attacking someone with a crutch.
The dailyMail reported that the brawl started as a "stunt" organised by a group called Live Madness Replays, who record pranks and post them on Instagram and TikTok. According to the Mail, an account associated with the group live-streamed the brawl, but has since been deleted.
Full article here: https://www.rt.com/uk/530103-spider-man-attack-london-supermarket/