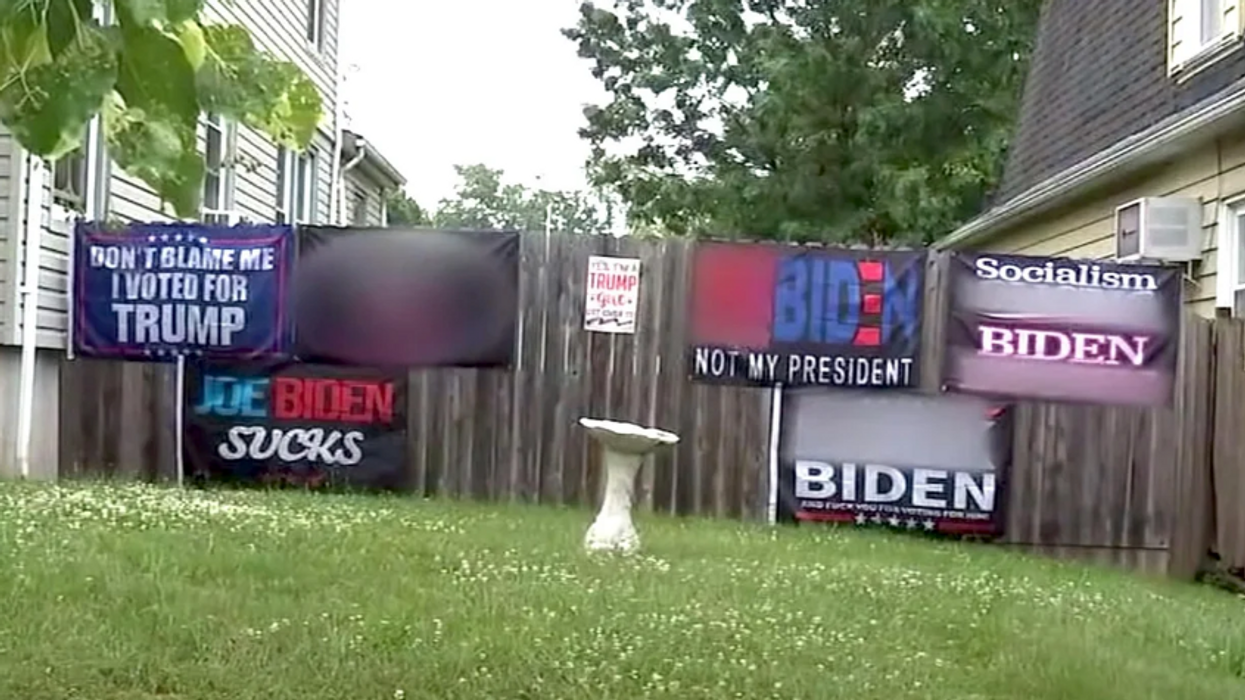 Ussanews.com ————— By Constitutional Nobody ———Sun., July 18, 2021
A New Jersey woman who opposes President Joe Biden is facing what appears to be legal censorship after a judge ruled she must remove anti-Biden flags from outside her home or face daily monetary fines.
What are the details?

The Roselle Park woman became the ire of her neighbors — and "caught the attention of local code enforcement," according to NJ.com — after she began displaying anti-Biden, pro-Donald Trump flags.
The display includes six flags, which say:
"Don't Blame Me I Voted For Trump"
"Joe Biden Sucks"
"F* Biden" "F* Biden Not My President"
"Socialism Sucks Biden Blows"
The sixth flag shows Trump holding up two middle figures and includes the caption, "F*** Biden"
Mayor Joseph Signorello (D) claimed the display violated town ordinances prohibiting "obscene materials," but claimed the political nature of the display was not problematic.
The owner of the display, Andrea Dick, was defiant when told by city officials to remove the display.

"I'm not taking them down," Dick said…. I have a right, freedom of speech, and I'm leaving them up there."

What did the judge rule?

Roselle Park Municipal Court Judge Gary Bundy ordered Dick — and her mother, the property owner, Patricia Dilascio — to remove the flags with profanity or face daily $250 fines.
Bundy claimed the profanity is not protected by the First Amendment.
Full article here: https://ussanews.com/News1/2021/07/18/judge-orders-woman-to-remove-f-biden-flags-or-face-daily-250-fines-were-going-into-censorship/