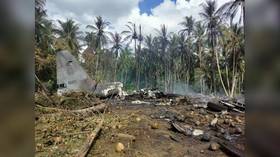 RT News.com —————By Staff ——————–Sun., July 04, 2021
At least 45 people have been killed after a C-130 transport plane operated by the Philippines military crashed in the country's Sulu province. A large number of passengers have been pulled alive from the wreckage.
Philippines military chief Cirilito Sobejana confirmed that a C-130 transport plane had crashed in Jolo, the province's capital, on Sunday. The plane, which was transporting troops at the time of the accident, missed the runway while landing and crashed into a nearby village, Sobejana explained.
So far, 45 deaths have been reported, while several dozen survivors have been hospitalized. Military and civilian firefighters worked to put out a fire that had engulfed much of the aircraft.
Ninety-two people, most of them army personnel, were on board the aircraft at the time of the accident, the country's defense secretary, Delfin Lorenzana, said in a statement.
Full article here: https://www.rt.com/news/528335-philippines-military-plane-crash/