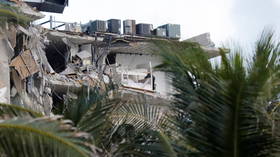 The residential complex contained a significant Jewish population. I watched the vid and it looked to me like a controlled demolition – take a look and you decide! (r. a. note)
RT News.com ————–By Staff —————Thurs., June 24, 2021
A video posted on social media shows a moment when a high-rise residential complex collapsed in Surfside, near Miami, Florida on Thursday, killing at least one person.
The video shows how two sections of a condo had suddenly collapsed one after another in the middle of the night.

Surfside Mayor Charles Burkett confirmed that at least one person was killed and 10 were injured. Miami-Dade County Fire Rescue Assistant Fire Chief Ray Jadallah said that 35 people were rescued from the building.
The Champlain Towers South was described in the media as a 12-floor high-end ocean-view residential complex with more than 130 units. According to the Miami Herald, it has two sister buildings, Champlain Towers North and Champlain Tower East.
Source: https://www.rt.com/usa/527476-florida-building-collapse-video/