SputnikNews.com ———By Ekaterina Blinova ———–Mon., June 21, 2021
Florida's Republican Governor Ron DeSantis has outpaced former President Donald Trump in a straw poll for 2024 presidential candidates conducted by the Western Conservative Summit.
The Florida governor came out on top with 74 percent of potential voters approving of him as a presidential candidate, while Trump ranked second with 71 percent, according to the latest survey. Senator Ted Cruz of Texas received 43 percent. Former Secretary of State Mike Pompeo and Senator Tim Scott of South Carolina received 39 percent and 36 percent, respectively.
In-person and online attendees of the Western Conservative Summit were asked to choose among 31 GOP and Democratic potential candidates, including President Joe Biden, Vice President Kamala Harris, and Senator Bernie Sanders. However, the top 13 were all Republicans.
The survey employed the approval voting method, whereby voters picked multiple responses to each question which, according to poll conductor Frank Attwood, "minimise[d] spoilers and sabotage and [gave] viability and visibility to minor candidates".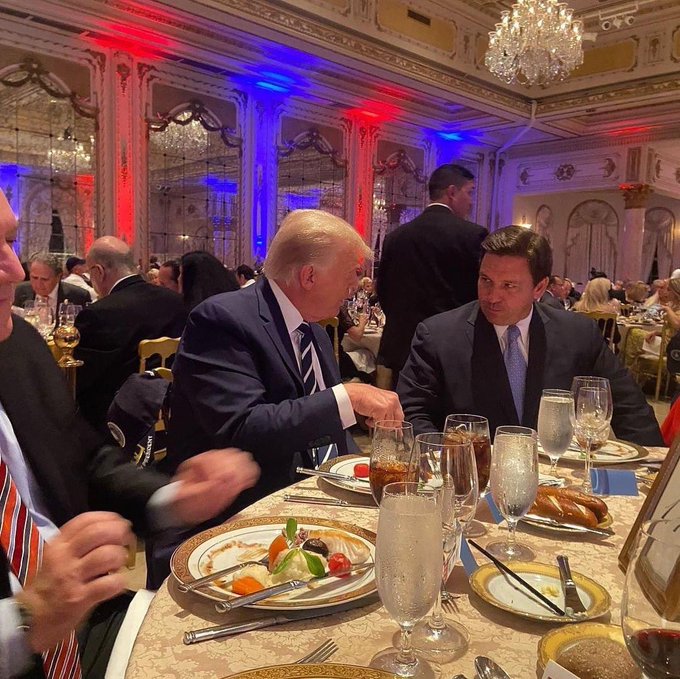 Pic above: Trump and Desantis at Mar-a-Lago
DeSantis' latest victory in the straw poll followed his outstanding performance in the Conservative Political Action Conference (CPAC) straw poll in February 2021, where he ranked second after former President Trump.
At that time, Trump received 55 percent, while DeSantis received 22 percent. However, when Trump was excluded from the question about the 2024 race, the Florida governor gained 43 percent of votes as a potential presidential candidate.
DeSantis has recently received a lot of media attention, being praised by conservatives over his handling of the coronavirus pandemic, banning of COVID passports, cracking down on critical race theory, and Big Tech.
Full article here: https://sputniknews.com/us/202106211083198911-new-us-president-in-the-making-desantis-tops-latest-straw-poll-putting-trump-in-second-place/